Search for Property

Seller Resources

Buyer Resources

Community Directory

School Information

Charlestown Hunt

Mortgage Center

Meet Pat

RE/MAX Main Line
49 East Lancaster Avenue
Paoli, PA 19301
* * * *

| | |
| --- | --- |
| Office: | 610-640-9300 |
| Direct: | 610-296-0704 |
| Toll free: | 800-635-8640 |
| Fax: | 610-296-7416 |
Community Directory
I am a life-long resident of the Western Philadelphia Suburbs of Chester, Delaware and Montgomery Counties. This is a beautiful and historic area with excellent schools, numerous recreation facilities and a variety of housing styles.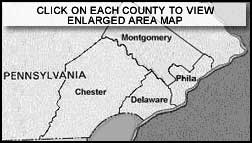 TOWNSHIP & BOROUGH LINKS
Below are the townships and boroughs I serve organized by county. Click on the township/borough name, which will link you to their web site.
Chester County
Delaware County
Montgomery County
ADDITIONAL HELPFUL LINKS
Click on the italicized words which will link you directly to the web site.
County Governments
Visitor Information
Recreation
Transportation
Miscellaneous Community Resources